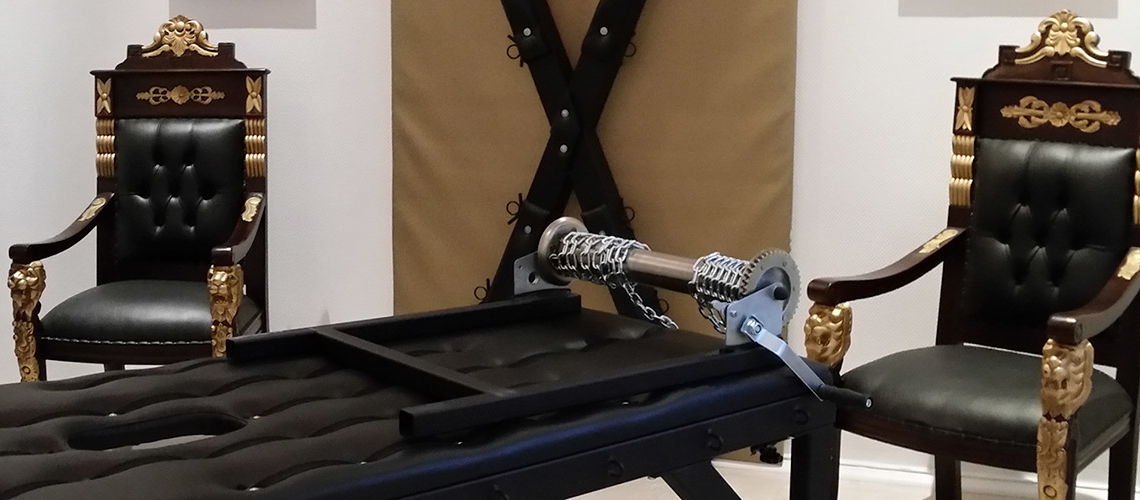 In a typical Berlin-style building, the Dominastudio Tartarus is located on a total area of 185m².
The rooms, designed with great attention to detail, invite not only the submissive slave and servant, the masochist or bondage lover to stay, but also the rubber fetishist, the clinic patient or the lover of the most sophisticated role-playing, as well as the the eager learning maid or the willing slave, to name just a few.
Our rooms are divided into different thematic areas. The special atmosphere, created by light, ambience and music, allows every lover and admirer of female dominance to dive into their very own unique fantasy world.
For classical discipline, for example, the Red Salon and the Dungeon are available as two very creative, imaginative, multifaceted rooms with medieval flair.
Here you will find all kinds of possibilities; the traditional cross, a pulley, a stretching bench, a whipping bench, a leather swing and numerous other facilities such as bondage chairs, punishment stools, a straitjacket and plenty of familiar and unfamiliar equipment.
Of course the mistress takes place on a throne arranged for her needs. Especially worth mentioning – there's a two-story cage in the dungeon.
Before and after the session, every guest has access to one of our bathrooms. Discretion and hygiene are our top priorities!
The patient in need receives his well-supervised treatment in our Clinic Room, which is equipped with an extensive instrumentarium, an examination chair and a hospital bed.
Dental check-ups can be done as well as microscopic analyses.
In front of the make-up mirror in the Tartarus Suite, the maid can live out her feminine side and embellish herself with make-up, wigs, high heels and various garments as well as provocative underwear and corsets.
For a gynaecological examination, 2 gynaecological chairs and 2 ankle benches with gynaecological leg supports are available in the Studio Tartarus.
Of course we have a well sorted latex selection,
to make the rubber lover's dream come true.